Do You

want to make the best out of your time at Linnaeus University? Isterbandet is The only, best and totally the fattest student orchestra. We are constantly searching for new talents! It does not matter if you play electric bass, trumpet, saxophone, slide trombone, flute, drums, banjo, clarinet, triangel, garden hose or a flat tyre, you are still welcome to rock people's socks off! Isterbandet has a lot of gigs both in, and outside of Wexio. Stage performance is our every day life. No crowd is too large or too small to entertain! Once a year we attend at the annual STudent ORCHestra Festival in Uppsala or Linköping, and when we have the time we travel to Germany for one week of touring! More often we throw our own parties in our "Bunker". Of course we have a traditional uniform which we slip into all of the time!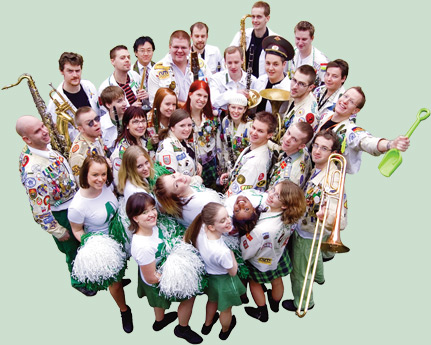 And this is not enough! Isterbandet also has a group of beautiful ladies, dancing the night away, in rhythm and harmony with the orchestra. If you ever felt an irresistable urge to jump around in your living room, dancing to the stereo — then our dancing troop Fläskleggen is something for you! These girls dress up, shake their glittering pom-pons, give you an opportunity to live your childhood dreams to the full.


Sounds interesting? Well, do not hesitate to contact us..